This newly launched, next generation SaaS solution delivers deep, multilayered location-based intelligence to quickly and cost effectively empower businesses to choose, manage and market great locations.
PlaceSense's newly enhanced SaaS platform delivers highly sophisticated visitor data, allowing users to understand any location by accurately analyzing its visitors. The possibility to instantly gain actionable insights mark a game changer for real estate, retail and OOH advertising using data to back location-based decision making which are visualized through easy-to-navigate dashboards.
Accuracy and Preciseness
One of the new game changing features is the automatic creation of uniquely precise polygons which determine the accuracy of the analyses of the respective locations.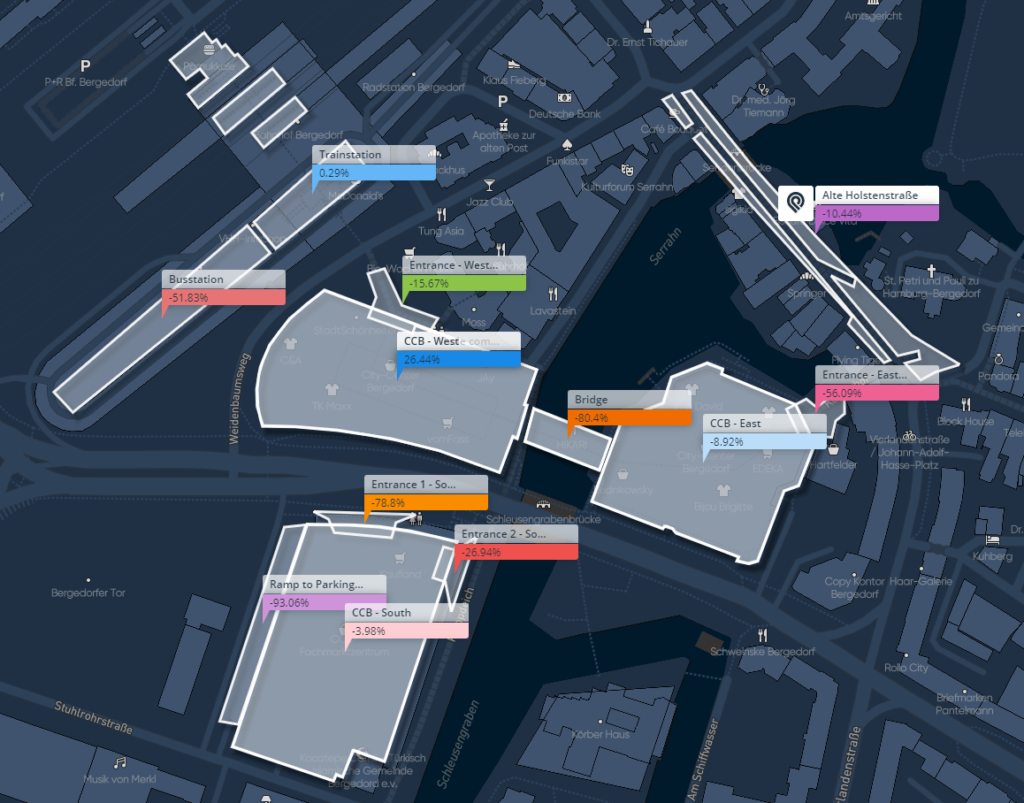 PlaceSense 3.0 collects data from Europe's largest GPS panel and enhances it via PlaceSense's Hybrid Data Model. As a result, PlaceSense's SaaS Platform can analyze the visitor behavior of the respective locations, determined by the polygons, with an accuracy of up to 3 meters.
This includes not only measuring the number of visitors to individual locations, but how long they stayed, where they came from and where they went afterwards. The result is the most accurate location-based intelligence solution available today, setting a new standard for the sector.
Faster and More Accessible Location Performance Analysis
PlaceSense's Saas platform provides a user-friendly dashboard, where you can access fast, on-demand insights and instantly visualize the performance of locations. This empowers users to quickly understand site popularity, footfall seasonality, visitor loyalty and beyond. A unique heatmap feature allows for the areas around a location that are most frequently visited to be highlighted.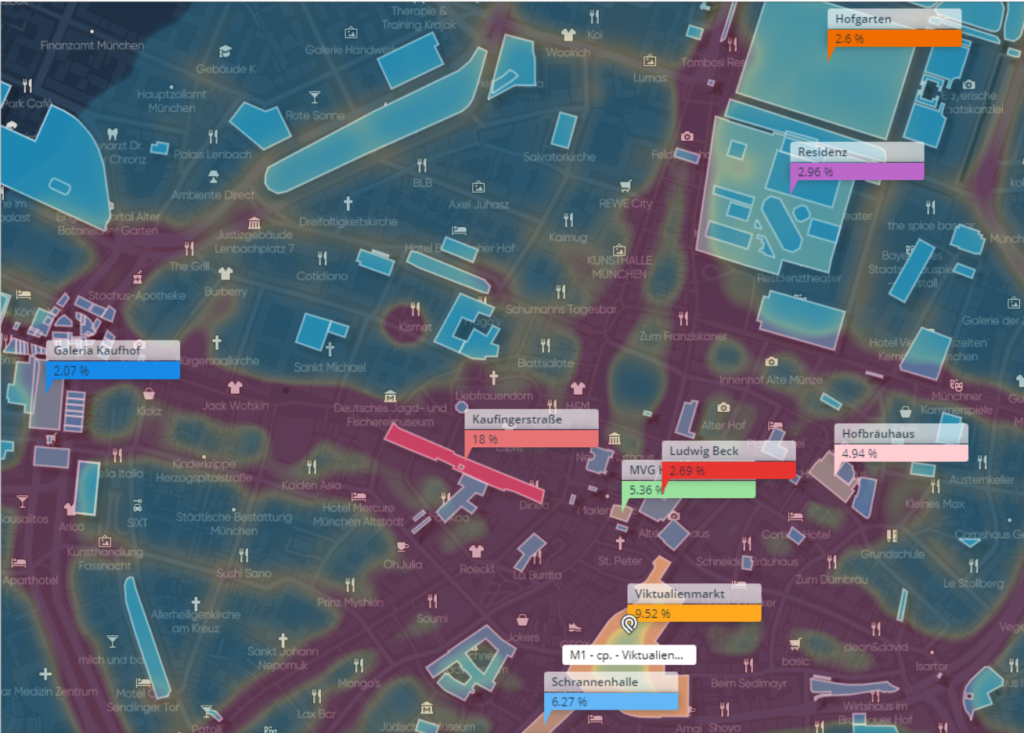 "Simply put, PlaceSense 3.0 is an absolute game-changer for location-based intelligence," says Dan Gildoni, CEO and Co-founder of PlaceSense. "Its release sets a new standard in the industry and dramatically improves the quality, accuracy and depth of data available to inform decision making. Our dynamic software tool delivers instant insights to inform your location-based decisions, advise your clients or convince your investors. This will help revolutionize the world of retail, real-estate, outdoor advertising and city planning."
To get your Location Performance Analysis schedule a meeting now.
Deeper Visitors Analysis
Additionally, PlaceSense 3.0 enables the analysis and visualization of real catchment areas and allows to understand the origin, destinations and routes of customers. With this unique feature, companies can ensure that they do not expand too close to their current branches, cannibalizing existing customers or missing out on unserved catchment areas. By enriching the data with socio-demographic and socio-economic data, users get a 360-degree view of their visitors allowing them to respond to the specific needs of their customers.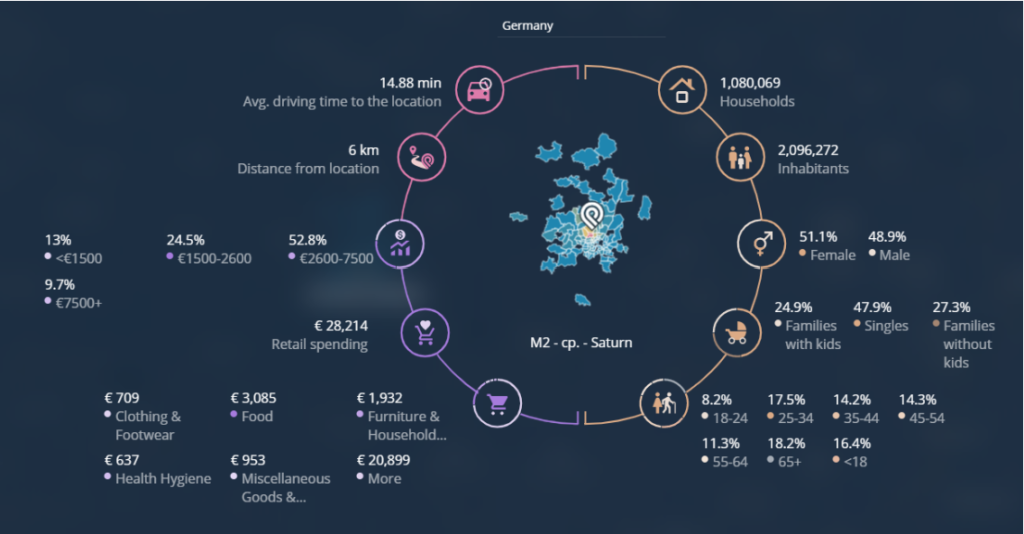 Competitive Landscaping and Location Benchmarking
PlaceSense 3.0 allows endless amounts of locations to be analyzed, including those in different cities and even different countries. This provides for comprehensive and precise competitor analysis through the comparison of competing locations. Using PlaceSense 3.0's versatile metrics therefore enables the identification, tracking and scoring of competing locations out of several angles. By understanding the performance of multiple locations, benchmarks can be established to set goals and develop KPIs that can be easily tracked over time.
Through a retention rate analysis users can quickly learn more about customer loyalty and thus identify locations with low loyalty in order to take appropriate countermeasures.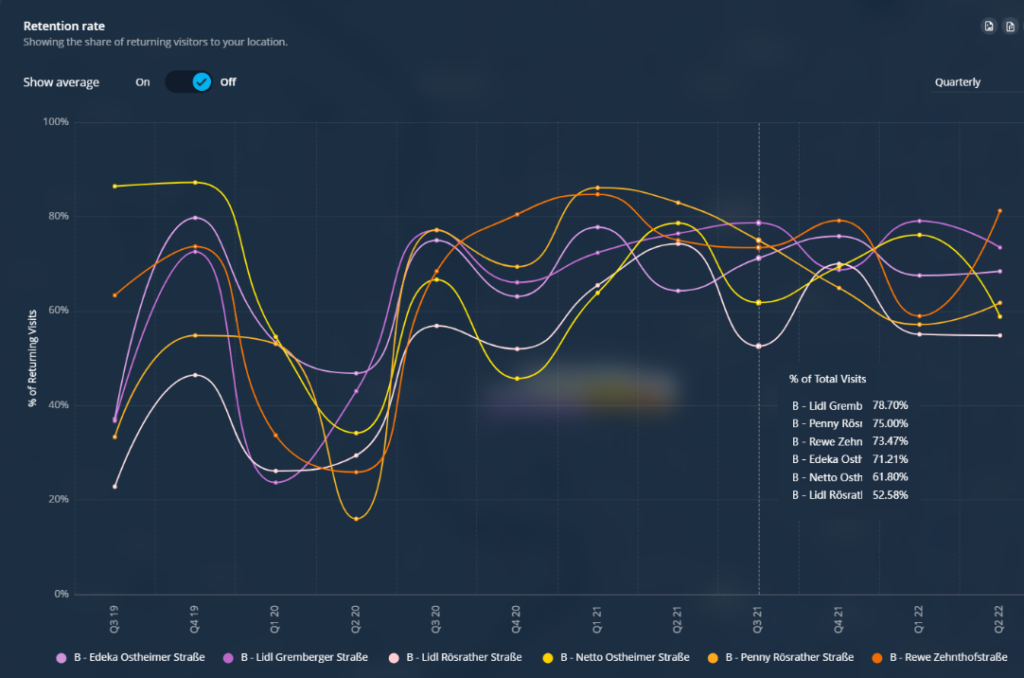 A comparison of the popular day & hour provides insights into the shopping behavior of the company's own customers and that of its competitors and thus enables targeted measures to better meet the needs of customers.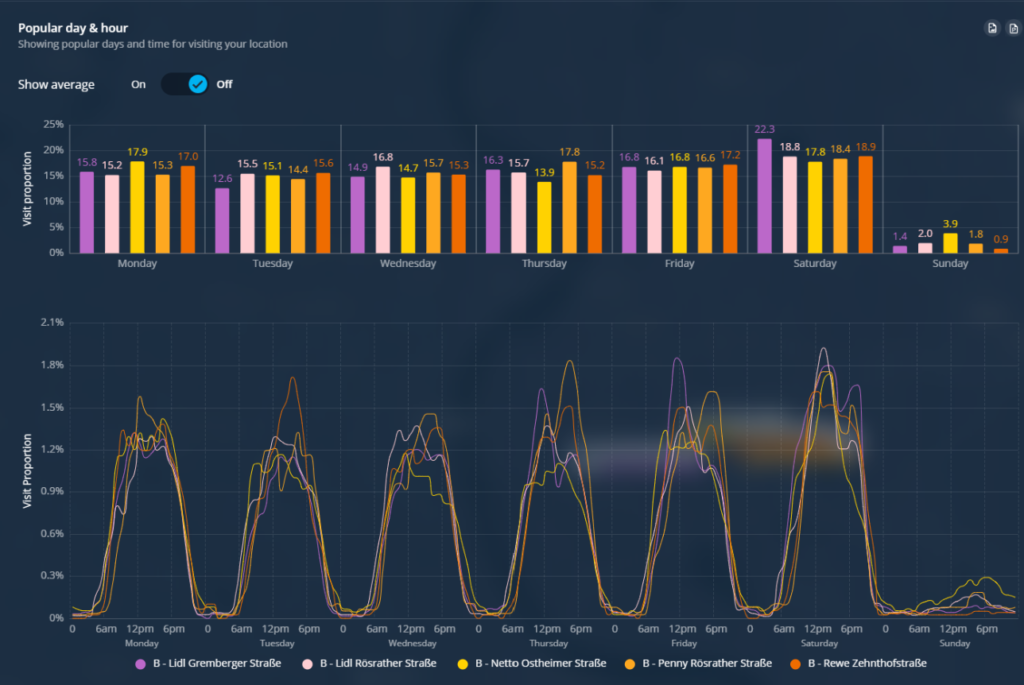 The cross-visitation feature gives insights to the percentage of visitors to one location that go on to visit other locations during the selected period of time and therefore allows for an ongoing competitor and cannibalization analysis.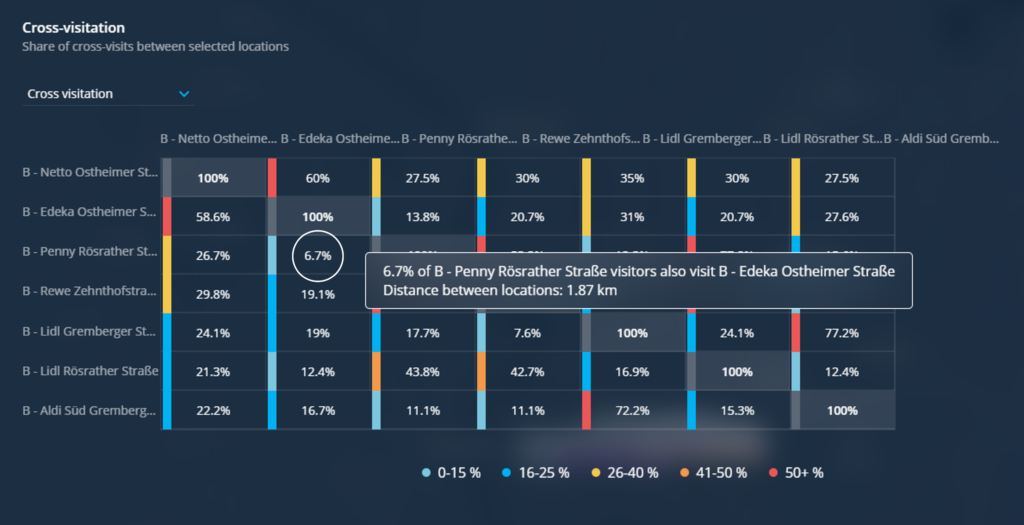 PlaceSense 3.0 analyzing the cross-visitation of competing branches
Learn how your business can benefit from PlaceSense now! Click here to schedule a demo.
Active in Multiple Countries
PlaceSense Platform 3.0 allows expansion into any country due to its great flexibility and new more accurate and precise models. In fact, PlaceSense already serves customers in multiple countries with highly accurate location intelligence data.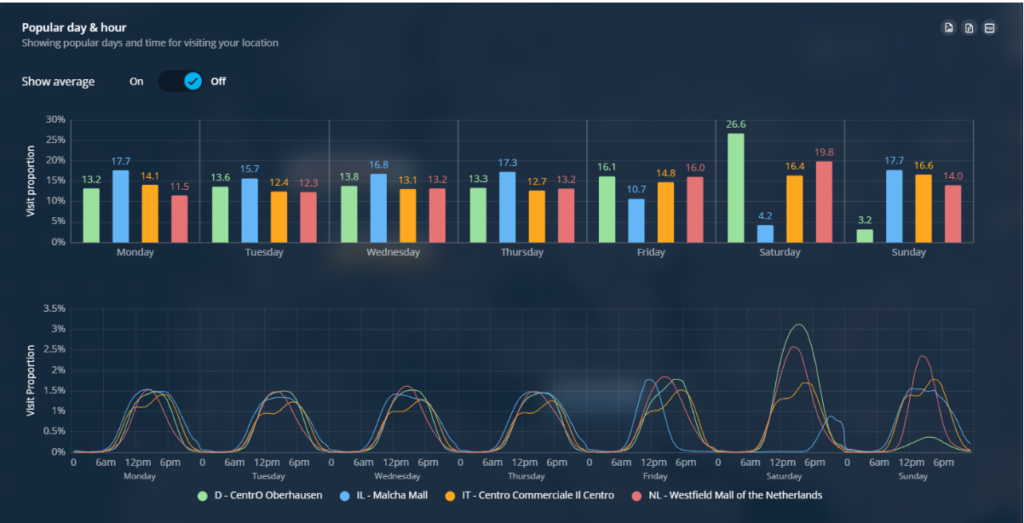 Ensuring Privacy and GDPR Compliance
PlaceSense combines proprietary machine learning and anonymization algorithms to create location insights, which are unique in their granularity and privacy protection.
Anonymization: PlaceSense only provides anonymized consumer insights for a given area or location. Neither clients nor PlaceSense can retrieve personal data from the deliverables. 
Aggregation: Businesses only receive group-level statistics for locations from us. We do not provide crowd statistics for places that are rarely visited, as this would put privacy and insight validity at risk.
Consent: We work with partners specialized in GDPR-compliant consent collection from apps. Nearly all global data companies receive data from apps based on the same consent and via the same partners, making it the industry standard.
Certifications: We employ a data protection officer who is ISO/ANSI certified as Information Privacy Professional for Europe (CIPP/E). We also received the ePrivacy seal, an industry recognized data protection certification, after a privacy audit of our business model and data processing by e-Privacy on the basis of EU law.
Fast, Simple, Accurate
Access to PlaceSense 3.0's highly advanced visitor data is fast, simple to navigate, sleek and easy-to-use. PlaceSense quickly allows you to understand how people are behaving in and around a location, and how that behavior changes over time. These AI-powered data-driven insights truly place analytics at the heart of real-world location-based decision making.
Find out how PlaceSense can help your business and schedule a demo with us today. We promise you: PlaceSense 3.0 will impact your understanding of your locations and the locations around you! Click here to schedule a demo.